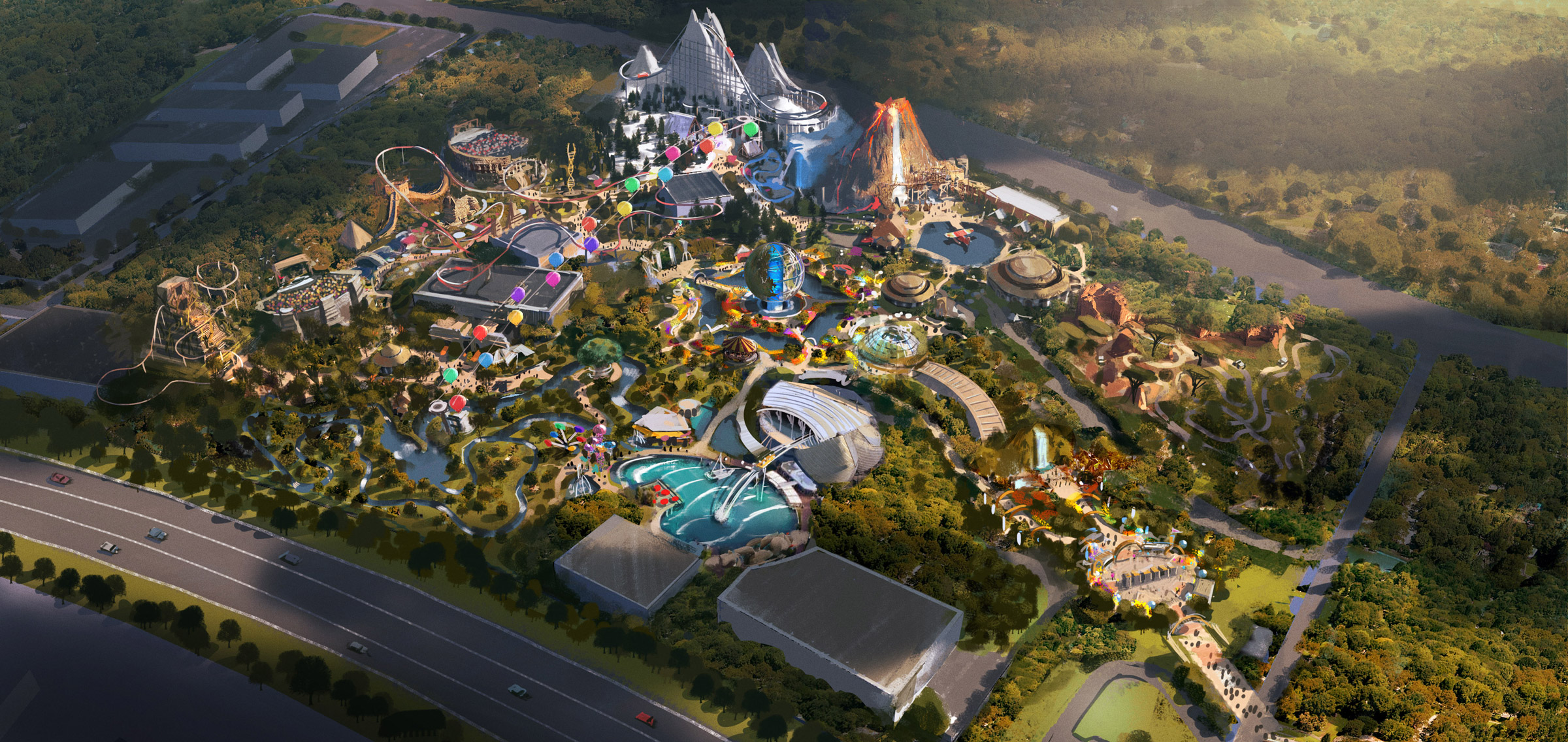 The Team
The team that waves the Zeitgeist Design + Production banner has spent an average of 35 years focused on the conception, design, production, and construction of over $12 Billion in realized, award-winning, and world-class theme parks, attractions, museums, resorts, and retail/entertainment centers.
Our history, talents, and focus are one: taking original stories, intellectual properties, brands, mythologies, and histories and transforming them into innovative and immersive experiences that transport guests to times, places, and situations beyond imagination.
We believe that today's themed entertainment projects require a talented and experienced team of designers, planners, architects, writers, creative directors, project managers, technologists, producers, art directors, and more; people who have "been there and done that" for the best of the best — from the proverbial blank sheet of paper to opening day.
We think you'll agree: nobody beats the team at Zeitgeist Design & Production.
Ryan Harmon, President + Chief Creative Officer

Life is an experience and since 1987, Ryan Harmon has been making it a memorable one for millions of people around the world.  Harmon is a respected producer, creative director, and writer who understands the power of story, strategy, innovation, brand, and budget - and how to engage people emotionally through the mediums of environment, technology, and theatricality. Harmon is a former Disney Imagineer (from age 20) who has held senior creative positions at Delaney-Harmon, Story Dept., Universal Creative, Warner Bros., BRC Imagination Arts, and Landmark Entertainment Group, and consulted for dozens of owner/operators, design firms, and developers worldwide. Ryan is a member of the Producers Guild of America and The Magic Castle, and currently serves on the advisory panel for Riyadh Hub in Saudi Arabia.

Joe Lanzisero, Executive Vice President + Chief Art Director

After 35 years as a Disney Imagineer, responsible for over US$9 billion in built projects, including Mickey's Toontown at Disneyland, Toy Story Land, Mystic Point and Grizzly Gulch at Hong Kong Disneyland, and dozens of classic Disney rides, shows, and attractions in the parks and aboard Disney Cruise Ships, Joe Lanzisero is a true celebrity of our industry. Lanzisero studied at CalArts alongside Tim Burton, John Lasseter, Brad Bird and other luminaries of animation and film before becoming a Disney animator in the early 1980s. Today, he is a designer, illustrator, art director and creative director of the very highest caliber, garnering the respect of his peers and serving as an in-demand public speaker on the topics of user experience and experience design. For more information, visit: http://www.lanziserocreative.com.

Roberta Perry, Senior Vice President, Business Development and Marketing

Roberta Perry is a business development catalyst who opens new doors connecting people to people, people to projects and often, projects to funding. Her areas of expertise include location based entertainment/theme parks, hospitality, gaming, entertainment, shopping center development, museums/zoos/aquariums, hotels and attractions. Clients have included Edwards Technologies, Inc., 20th Century Fox Studios - Los Angeles, Baja and Australia, Fox Sports Entertainment, Paramount Studios Creative Services, SEGA Entertainment, Cirque de Soleil, and Universal Studios. Perry has served as president of the Themed Entertainment Association (TEA) and as a board member of the National Restaurant Association Marketing Executives Group. Guest speaking engagements include IAAPA, Themed Entertainment Association, Urban Land Institute (ULI), and ITIA (China Tourism. In October, 2020, Perry was the recipient of a "Master of their Craft" Award from the Themed Entertainment Association.

Andy Kim, Director of Business Development — Korea

Andy Kim is a longtime business development strategist based in Seoul, Korea. He oversees new business development for Zeitgeist in Korea and throughout Asia, seeking out developers looking to conceive, design, and build high-quality and financially successful entertainment, retail, and resort experiences in their local communities.

Greg Randle, Senior Producer – Orlando

Greg Randle manages Zeitgeist's presence in Orlando, Florida. A longtime colleague of Ryan Harmon, Randle is an award-winning lighting designer with twenty-five years design experience in the themed entertainment industry. During his multi-decade tenure at Walt Disney Imagineering, Randle was the Principal Show and Themed Lighting Designer for the Thea Award-winning Mickey & Minnie's Runaway Railway; designing not only the theatrical lighting for the attraction, but also custom light fixtures that reflected both the golden age of Hollywood and the crazy world of a Mickey Mouse cartoon. Other notable Disney projects include Disney Springs, Toy Story Land and Shanghai Disneyland. Beyond Disney, Randle was awarded the International Illumination Design Award for his work as principal show and theme lighting designer for another Thea Award-winning attraction, Revenge of the Mummy at Universal Studios Florida. He has also worked on Ferrari World in Abu Dhabi, UAE, Hard Rock Park, and Harley-Davidson's 100th Anniversary Open Road Tour.

Betsy Richman, Vice President, Public Relations

Betsy Richman is an internationally experienced communications leader. She specializes in strategic communication and project management that advances organizations' brand positioning, thought leadership, partnerships and internal communications/employee engagement. Her particular interests include the organization of start-up communications departments/programs; corporate communications for entertainment, nonprofit, multinational, government, healthcare, education, and consumer clients; and the written word, whatever form it takes. Richman started her career at Walt Disney Imagineering, operated a communications consultancy for 12 years, and recently returned to the States following 15 years working in Kuwait and Qatar for the U.S. military, and most recently, for the Qatar Financial Center Regulatory Authority as head of corporate communications.

Beckie Kiefer, Director, Design Studio

Beckie Kiefer does double duty as Zeitgeist's in-house studio director and project coordinator, assisting the executive team with staffing and managing vendors, contracts, and design. Her background is in live entertainment, having performed as a Radio City Rockette for five years, at Universal Studios Hollywood, and for a number of Los Angeles-based dance companies. Kiefer is also the unofficial face of Zeitgeist — her friendly demeanor, desire to please, and can-do attitude quickly winning the hearts of the company's clients and vendors alike.

Tom Morris, Executive Creative Director

Tom Morris is a renowned designer, creative director, art director, and illustrator with over 42 years of experience as a Disney Imagineer. In a senior creative director/ show producer role, Morris created such beloved Disney experiences as Fantasyland and Sleeping Beauty's Castle at Disneyland Paris; phases one and two of Hong Kong Disneyland; Carsland and Radiator Springs Racers at Disney California Adventure, Star Tours, Splash Mountain, and more. His book on the early history of WED Enterprises/Walt Disney Imagineering is due in 2022.

Chris Runco, Senior Concept Designer and Art Director

A celebrity Disney Imagineer for over three decades, Chris Runco is best known as the visionary behind America's most successful waterpark, Typhoon Lagoon. In his role as a concept designer, art director, and illustrator, Runco's projects also included Shanghai Disneyland's Gardens of Imagination; the 2010 upgrade of Tokyo Disneyland's Monsters, Inc. Ride 'N Go Seek attraction; Pirate's Lair on Disneyland's Tom Sawyer Island; the Monsters, Inc. dark ride, Grizzly River Run, and Redwood Creek Challenge Trail at Disney California Adventure; and Harambe Village and Pangani Forest Trail at Disney's Animal Kingdom.

Terry Palmer, Consulting Master Planner

A student of famed Disneyland landscaper Bill Evans, Terry Palmer is a proven expert at the layout and master planning of successful theme parks. His long career as a Disney Imagineer gave way to stints at Universal Creative, Thinkwell Group, Riva (Dubai Parks/Meraas), and a number of other companies and major international projects. Palmer master planned Hong Kong Disneyland, Disney's Animal Kingdom, Universal's Islands of Adventure, Motiongate, and Bollywood, among other thriving parks, gardens, museums, and attractions.

David Damron, Senior Designer and Illustrator

Veteran themed entertainment designer and artist David Damron has conceived and designed hundreds of theme parks and attractions worldwide beginning with Korea's Lotte World, and including Sanrio Puroland in Japan, Universal's Islands of Adventure, and Shanghai Disneyland. He has worked closely with Ryan Harmon for over a quarter century.

Liz Richards, Senior Art Director

Liz Richards is an experienced visual designer with a demonstrated history of working in the entertainment industry. A former Disney Imagineer, Richards is skilled in concept art, blacklight technology, animation, special effects, and animatronics. She has a Bachelor of Fine Arts degree in Animation from Brigham Young University.

Richard Wilks, Senior Designer

Richard Wilks is an award-winning designer who captures the essence of his clients' brands using a distinctly human touch coupled with a highly strategic process. Wilks is a former Disney Imagineer who went on to found and operate his own successful graphic and visual design studio. His past projects include Mickey's Toontown at Disneyland, Cerritos Library, and multiple projects for Burning Man, including one recently displayed at the Smithsonian Institute in Washington, D.C.

Merry Yu, Chinese Cultural Advisor

Merry Yu grew up in Shanghai and relocated to Los Angeles in 2016. She is a communications and marketing specialist with more than 12 years of experience working for international companies, including JD Power & Associates. Yu is instrumental in helping Zeitgeist interface with its many Chinese clients and provides professional translation for company presentations.

Office Manager

Carol Joans, Finance Director

Carol Joans has spent the past 40 years overseeing finances for just about every type of production – commercials, themed entertainment, music videos, motion pictures and cartoons. She has served in such roles as Chief Financial Officer, VP of Finance, Associate Producer, and Controller for companies such as Chelsea Pictures, Miziker Entertainment Group, Columbia Pictures, Landmark Entertainment Group, and Fred Wolf Films. Past projects include hit movies like "Meet Joe Black," "The X-Files," and "Deep Impact," as well as several Taco Bell commercials, over 20 Coca-Cola commercials, and hundreds of music videos for acts ranging from Tom Petty & the Heartbreakers to The Rolling Stones. Joans has even worked on cartoon and Claymation productions like "Zorro," "Dino Babies," and "Teenage Mutant Ninja Turtles."